iPad Air went on sale worldwide yesterday in 42 countries, including Ireland.  Retailers reported strong demand – more so in Dublin, but most places still have good stocks today.  WiFi-only models are in high demand and shops appear to have more of these in stock, but in general if you can't find what you're looking for today, they should be able to get it in a day or two.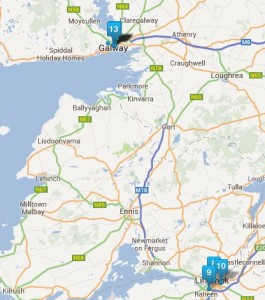 Prices range from €489 for the 16GB WiFi Only model, with 32GB, 64GB and 128GB models also available.  Cellular models cost €120 more and data plans are available from O2, Vodafone and Three.
You can order online from Apple and they will ship withing 24 hours.  Or check out the store locator on their site, although if you live in County Clare you'll have to travel to either Limerick or Galway to get your hands on Apple products!
The in-store experience may be more important than ever when the new iPad Mini with Retina display comes out later this month.  With an enhanced display and a quadruple boost in processor power, the new mini will be a closer competitor to the larger iPads at just $100 less than the Air and for the same price as an iPad 2.  I'm guessing many consumers may want to weigh the difference in their hands before making a final choice.  The exact release date for the iPad Mini with Retina Display has yet to be announced but it's promised for "later in November".
Related articles