Ireland ranks 10th in the world for average internet connection speed according to the latest research by content delivery company Akamai.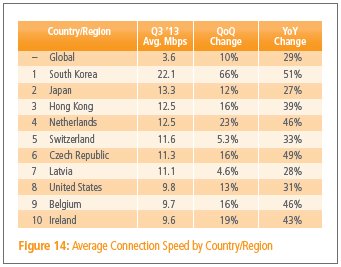 Akamai have published their State of the Internet Report for Q3 2013.  With an average connection speed of 9.6 Mbps, Ireland ranks 10th globally, and 5th in EMEA, behind the Netherlands, Switzerland, Czech Republic and Belgium.
The UK is 14th globally (9.1 Mbps) and the US is in 8th place (9.8 Mbps).  South Korea tops the global chart with an average connection speed of 22.1 Mbps.  That's a massive 66% increase on last quarter.  Ireland's speed is up 19% on the previous quarter and over 40% on the previous year.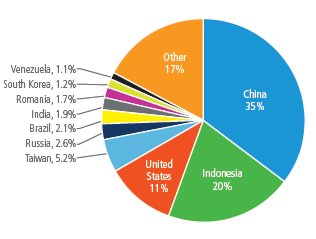 These figures do not include mobile, cellular data which is analysed separately in another section of the report, using anonymised codes for the different mobile providers.  It also contains interesting data on internet disruptions in Syria and other places, and on DDOS activity.  35% of all DDOS attacks worldwide originate in China.
The report observes that "the United States and some European countries have taken a clear lead in IPv6 adoption".  Ireland ranks 9th for IPv6 adoption at 3.8%.
One of the more interesting graphs in the report shows the growth of mobile data over the last 6 years, while voice traffic has remained almost static.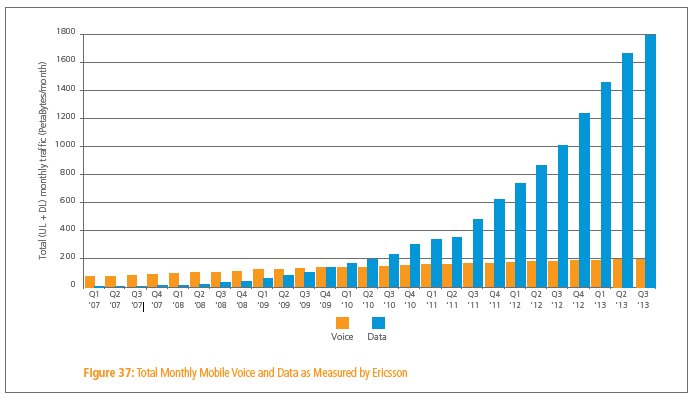 For more details, visit www.akamai.com/stateoftheinternet.
Related articles