Announcing their new fibre-to-the-home joint venture yesterday, ESB and Vodafone made reference to the quarterly reports on the State of the Internet, published by content delivery network, Akamai, and expressed confidence that their venture would propel Ireland "into the ranks of the world's fastest broadband countries". But according to the latest report published by Akamai last week, we're already there.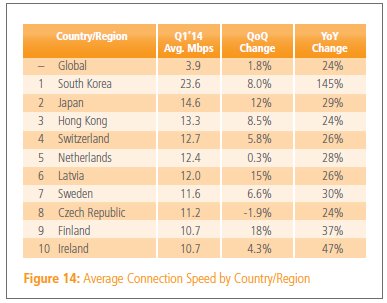 The latest Akamai report for Q1 2014 ranks Ireland at number 10 on Average Connection Speed, at 10.7 Mbps.
This is a result of achieving the second fastest growth worldwide over the year: 47%. The highest annual growth was in South Korea, which was three times greater at 145%.
However the report highlights the inequality in broadband deployment in Ireland. The country is ranked 39th for Broadband Connectivity with just 65% of connections to Akamai at 4 MBps or greater. By contrast 91% of connections from Switzerland beat this threshold.
You can read the full report at Akamai.
Related articles