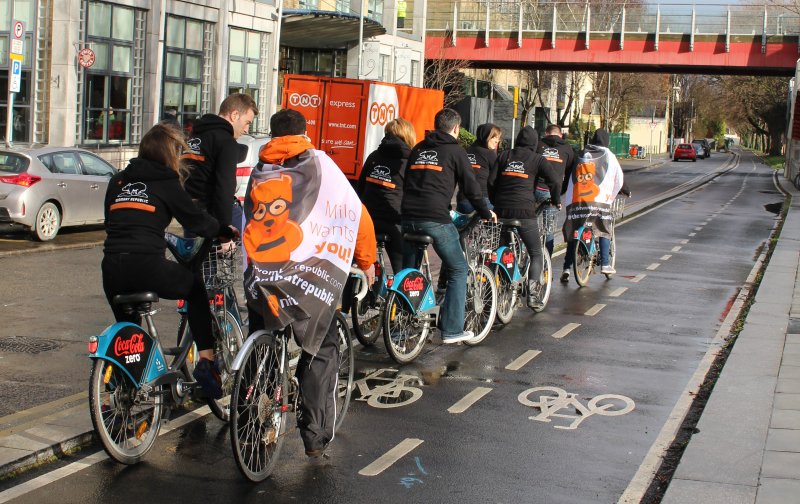 Nitro, the Australian founded, San Francisco headquartered, document management company are having a week-long recruitment drive for their EMEA HQ in Dublin, culminating in a talk by their Director of Engineering, Brendan Dillon at Career Zoo tomorrow at 2:30pm.
They've been busy promoting their 'work hard – play hard' corporate culture, which they've nicknamed 'The Wombat Republic', in a a nod to their Ozzie Origins! The campaign involves advertisements on buses, Luas and pavements, mobile billboards and cycle-by advertising. Nitro staff (called Nitronauts) will be on hand at the event in the Convention Centre Dublin tomorrow to talk about the jobs on offer and the perks of working for Nitro.
In a 'happiness' study conducted of Dublin staff recently, the company claims that over 80% of respondents used the word culture to explain why they love working for Nitro. In fact, 85% of Nitro staff joined the firm because they wanted a 'challenge' and were attracted to working in an 'established start-up tech company'.
The company with their EMEA headquarters in Dublin, is on a fast growth path and is actively recruiting in the areas of; Customer Support and Success, Engineering: Cloud, Engineering: Platform, Engineering: Systems and Infrastructure, Marketing including an internship, Ops, Product and Sales. For more information, check out www.thewombatrepublic.com.
Technology.ie will have an exclusive interview with Nitro founder and CEO Sam Chandler next week.
Meanwhile in Carlow, Blacknight have announced more vacancies in their Sales & Customer Service Department. The Irish-owned hosting and domains company (and home of Technology.ie) is driving growth since opening its state-of-the-art datacentre in Carlow last year. Full training will be provided to candidates with the right qualifications. For more details click here.
Career Zoo takes place at the Convention Centre Dublin tomorrow from 10am to 5pm.
Related articles