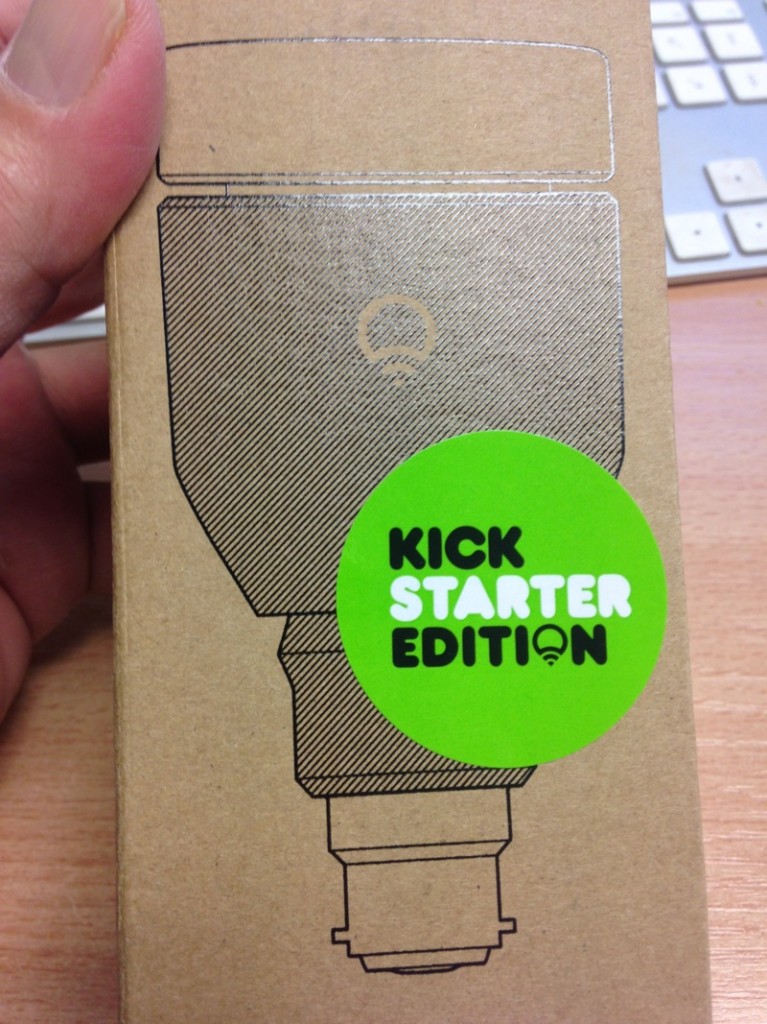 I mentioned the LIFX back in September 2012. It was one of those cool gadgets that crop up on KickStarter and I, like a LOT of others, was really impressed, intrigued and wowed by what we saw. The KickStarter project was a huge success and they managed to get over $1.3 million in funding when they'd only requested $100 thousand!
So it's been a long time coming, but I finally took delivery of my first two LIFX this morning. Sure, they're a lot later shipping to backers like me than originally predicted, but that's part of the fun of backing something on KickStarter. In the interim the guys from LIFX have kept us all up to date on developments and hopefully they'll be able to deliver on the SDK and other goodies soon.
I was really excited when I saw that my LIFX had arrived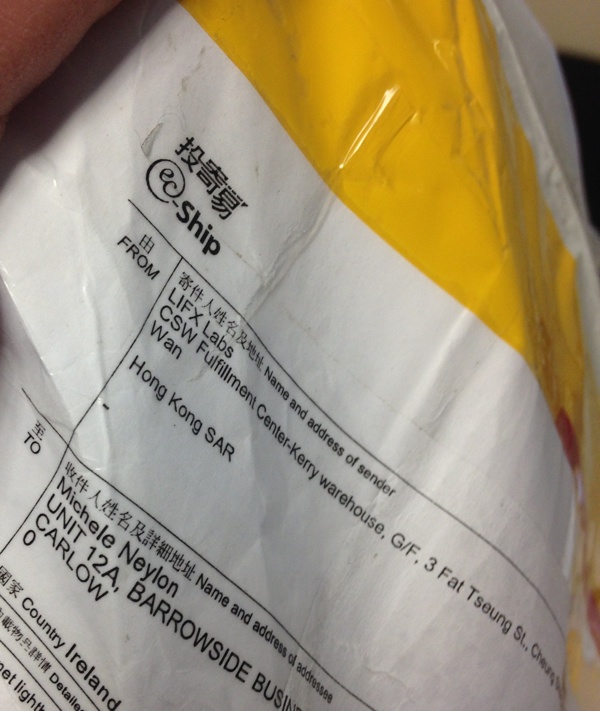 Of course an envelope is just an envelope and I really wanted to see what was inside. Light bulbs are a bit like eggs – if you drop them they make a terrible mess and so getting light bulbs shipped to people around the globe without any breaking requires careful packaging. The guys at LIFX definitely got that right – they were packed very carefully and there was plenty of bubble wrap in the bigger envelope containing my two boxes.
On the outside you have that nice big KickStarter edition label (see above) and the tech specs: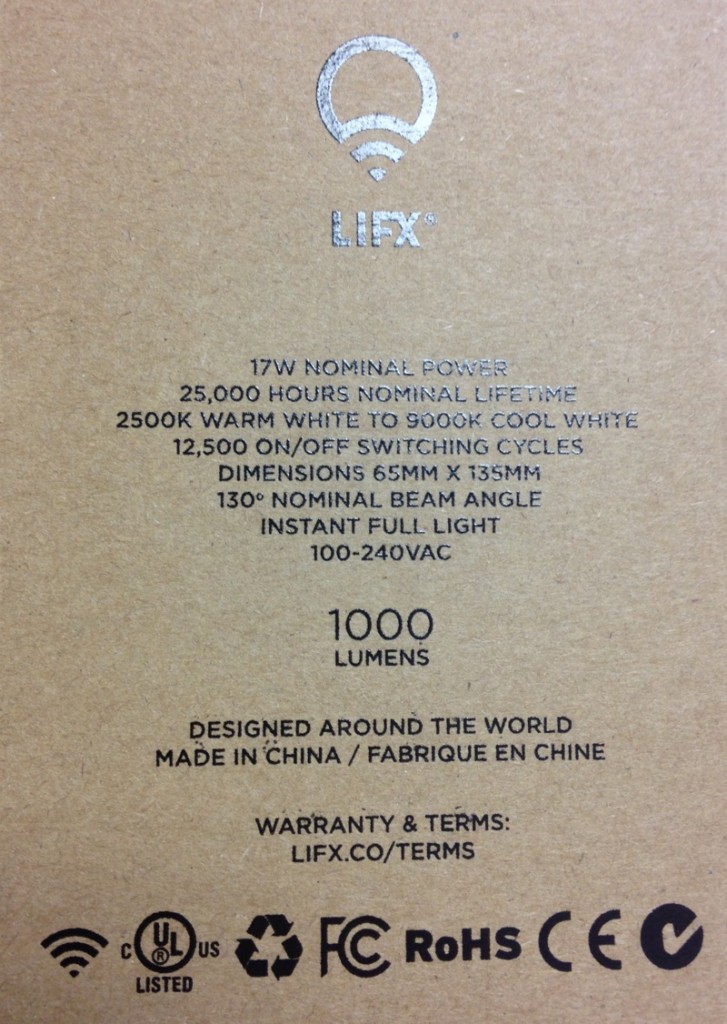 and yes it is very efficient: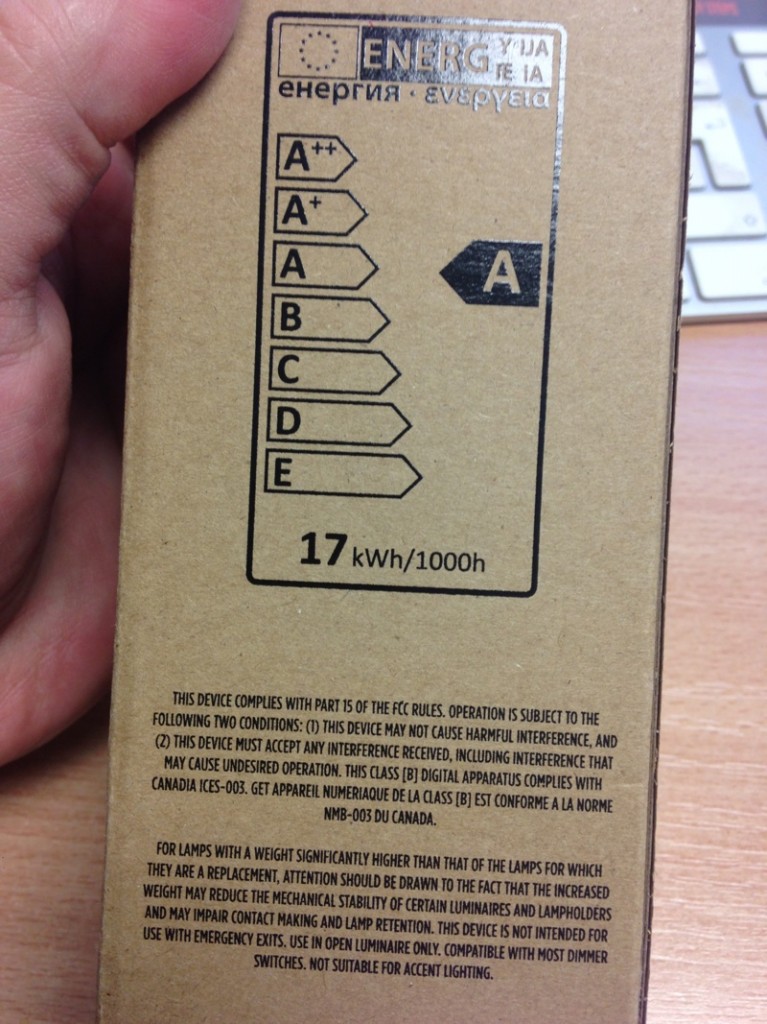 And it's incredibly easy to setup (well sort of – more on that below):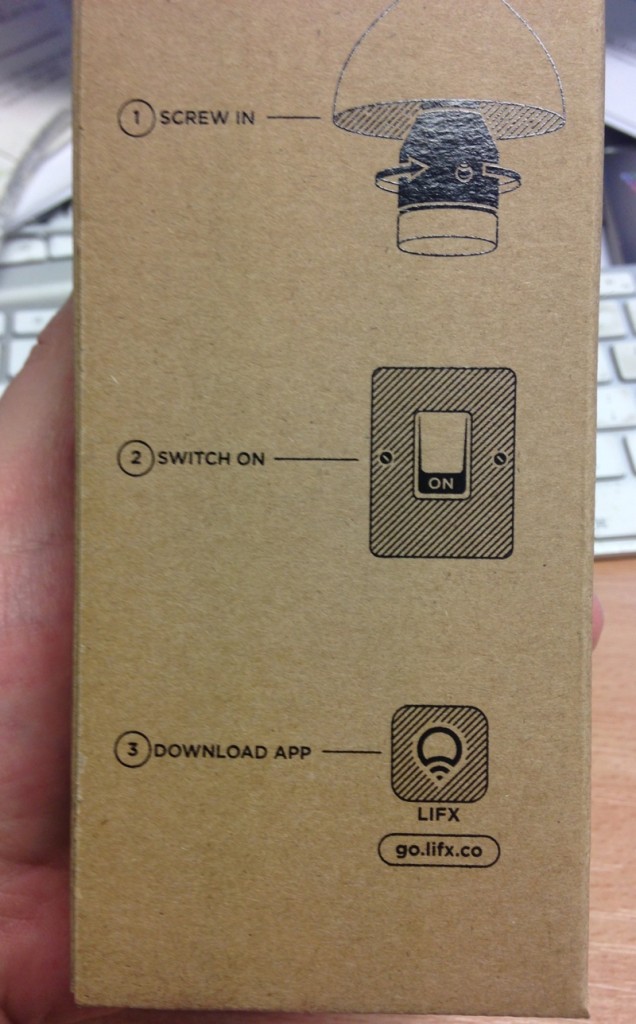 I'd opted for the gun metal grey bayonet style bulb, as I'm sick of white bulbs and most of my light fittings are bayonet style.
It's an impressive looking bit of kit:
Again – plenty of wrapping to protect the bulb.
Unfortunately I couldn't set it up until I got home this evening, but quite a few of the Blacknight team were in and out of my office throughout the day to get a look at them. (Yeah, they're a curious bunch and this kind of tech is cool)
As per the  instructions on the box, setup is dead simple.
Download and install the LIFX app on your iPhone. Screw the bulb into the socket, turn it on and then follow the instructions.
The LIFX has its own wifi network which you have to connect to and then you get the LIFX to connect to your own wifi network. One minor quirk I ran into here is that the LIFX does not see my 5GHz network and will only work with the 2.4 GHz one. Not a big deal. (My home router is quite funky 🙂 )
Once you've connected to the LIFX and configured it to work with your WIFI then you're "good to go". Bear in mind that the initial connection might take a while, so you have to be patient. The iPhone app is easy to use and you can set the light's brightness and play with the shades of white or play with colours. You can also save any "scenes" you like to reuse.
I've got two LIFX at the moment though I haven't installed the second one yet. The app shouldn't have any issue controlling multiple bulbs, but I'll know more about that when I get to play with it.
At the moment the options in the app are fun to play with but not everything previously advertised is available (yet). Judging by the updates they're posting via their Twitter account I should see more options becoming available via the app in the next few weeks.
They had spoken about a number of options on their Kickstarter project page that really enticed me:
Control your lights from anywhere
Choose any brightness for a specific bulb, a room or your whole house
Create the colors to match any mood or decor
Get notifications such as Twitter, Facebook, Texts and more
Reduce your energy consumption and save money
Visualise your music with animated colors
Make an impression at your next dinner party
Get creative with colors and effects
Create a night light for your kids
Security mode when you're on holidays
Create groups of lights
Robot dance like it's 1999
Unfortunately at time of writing a lot of the features listed above aren't available, but being able to tweak the more "basic" stuff and control it all from my phone is cool. This is the "internet of things" in action 🙂
I'm excited to see what they do over the coming weeks and months!