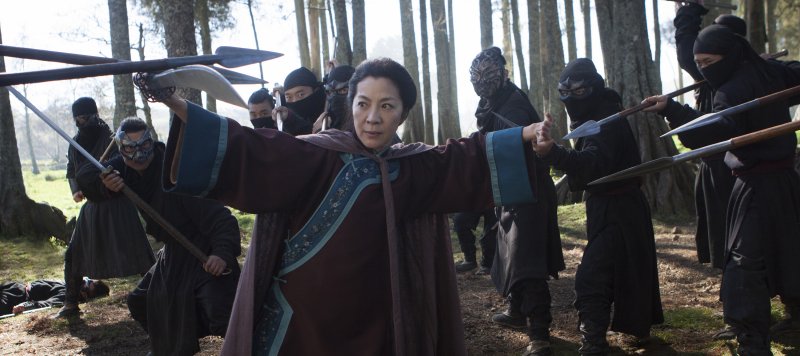 Crouching Tiger, Hidden Dragon: The Green Legend, the next chapter in the saga started by the critically and popularly acclaimed Ang Lee martial arts epic, will premiere exclusively on Netflix and in selected IMAX® cinemas globally on 28th August 2015.
Produced by The Weinstein Company, Crouching Tiger, Hidden Dragon: The Green Legend echoes the themes of the original film, but tells its own story – one of lost love, young love, a legendary sword and one last opportunity at redemption, set against breathtaking action in an epic martial arts battle between good and evil that will decide the fate of the Martial World.
Directed by the renowned martial arts choreographer (The Matrix Trilogy and Kill Bill 1& 2) and director (Tai Chi Master) Yuen Wo-Ping, Crouching Tiger, Hidden Dragon: The Green Legend stars Michelle Yeoh (Crouching Tiger, Hidden Dragon, The Lady) reprising her role as Yu Shu-Lien and Donnie Yen (Ip Man 1&2, Monkey King 3D) as Silent Wolf.
The film is to be the first of several major films backed by Netflix to premiere the same day on the world's leading Internet TV network and in select IMAX cinemas globally, giving consumers and exhibitors around the world unparalleled flexibility in how, when and where they enjoy a major motion picture.
"Fans will have unprecedented choice in how they enjoy an amazing and memorable film that combines intense action and incredible beauty," said Netflix Chief Content Officer Ted Sarandos. "We are honoured to be working with Harvey Weinstein and a world-class team of creators to bring this epic story to people all over the world and to partner with IMAX, a brand that represents the highest quality of immersive entertainment, in the distribution of this film."

"The moviegoing experience is evolving quickly and profoundly, and Netflix is unquestionably at the forefront of that movement," said TWC Co-Chairman Harvey Weinstein. "We are tremendously excited to be continuing our great relationship with Netflix and bringing to fans all over the world the latest chapter in this amazing and intriguing story ."
Principal photography is now under way in New Zealand.
Related articles