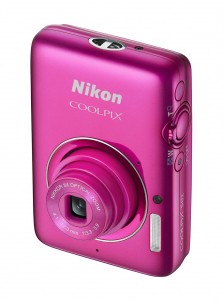 Nikon have recently released their newest – and smallest – camera: the Nikon Coolpix S02.  Face-on it's actually smaller than a credit card (though not as thin!) and it's designed to wear on a neck strap as a fashion accessory.  It comes in a choice of metallic colours (we like pink) and has a touch screen display.
The S02 also has consecutive shot combining technology to give you sharp shots even in low light and a 3x optical zoom.  It's got 7.3GB of internal memory (no SD cards) and charges over USB while connected to your computer.
Nikon Coolpix S02 takes pictures up to 13 megapixels and it's priced at €149.
Related articles