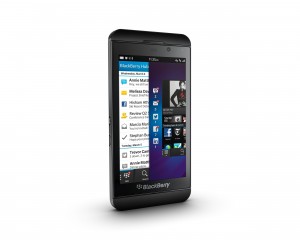 Remember the Blackberry? Their latest release, the Blackberry Z10 is the first smartphone from the manufacturer that uses their new Blackberry 10 platform.
From the release:
The BlackBerry Z10 is the first smartphone powered by the new BlackBerry® 10 platform, and is HSPA+ and LTE-enabled. It is elegant and distinctive, and the fastest, most advanced BlackBerry® smartphone yet, featuring a 1.5 GHz dual core processor with 2GB of RAM, 16GB of internal storage and an expandable memory card slot supporting up to 64GB of additional storage.
 
It includes the latest enhancements in high-density pixel and screen technology to display clear, sharp, and incredibly vivid images. It also features a micro HDMI out port for presentations, and advanced sensors such NFC (Near Field Communications) to support mobile payments and the exchange of information with the tap of a smartphone.
O2 Ireland will be offering it from March 1 with prices varying from 229 Euro to 559.99 Euro