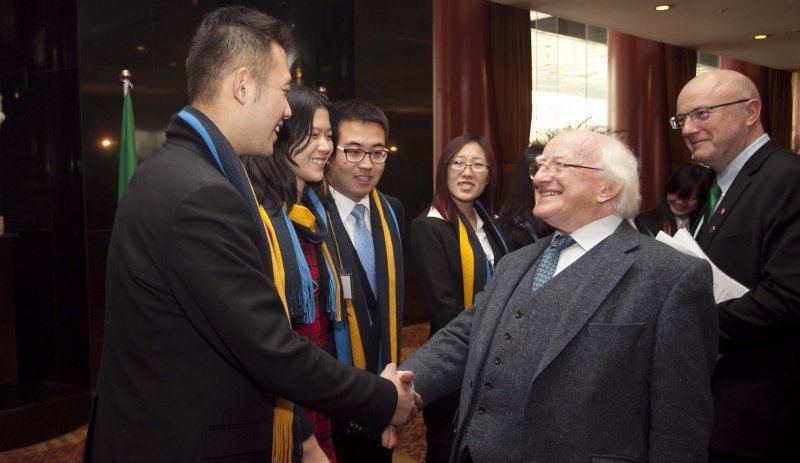 Science Foundation Ireland (SFI) and the National Natural Science Foundation of China (NSFC) have today announced the signing of new Cooperation Agreement on the occasion of the State Visit to China of President Michael D. Higgins. The agreement will allow for greater collaboration between both foundations in maintaining and developing co-operative activities in the fields of science and engineering, such as new research projects, exchange of researchers and bilateral workshops.
The Agreement was signed at a ceremony in the Hebei Room in the Great Hall of the People, Beijing by Professor Mark Ferguson, Director General of SFI and Chief Scientific Adviser to the Government of Ireland, and Professor Yang Wei, President of the Natural Science Foundation of China.
Speaking on the occasion of the signing, Professor Ferguson said:
"I welcome the opportunity to sign this Agreement on Cooperation on behalf of Science Foundation Ireland with the National Natural Science Foundation of China. Ireland and Chinese researchers currently collaborate through a number of programmes, including the SFI International Strategic Cooperation Award. There are numerous opportunities for further cooperation in many research areas and I look forward to growing links between our two foundations to our mutual benefit."
Professor Yang Wei said:
"I would like to offer my congratulations on the signing of the new Agreement on Cooperation between NSFC and SFI. This signifies a further development of even closer links between the two organisations. I look forward to more and widespread scientific activities under the new collaborative framework, which, I believe, will contribute to the progress of science in both countries."
This renewed agreement will build on the foundations that have been achieved since the signing of the first agreement between SFI and NSFC in 2005.
Related articles