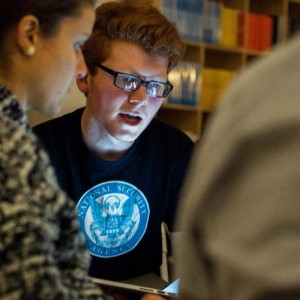 SpunOut.ie, the youth information service, is holding a privacy workshop on this Wednesday January 7 at its headquarters in Temple Bar. The event will be led by privacy activist Tommy Collison, whom we interviewed in a podcast just before Christmas.
Tommy's already run a couple of these events in New York, where he is a student of journalism. Back home in Ireland for a Christmas break, he has an opportunity to run an Irish event, and SpunOut.ie felt the idea was right up their street.
From SpunOut.ie:
SpunOut.ie are proud to partner with privacy activist Tommy Collison to run a workshop — or Crypto-party — where participants will be invited to bring along laptops and other mobile devices to learn how to use basic encrpytion tools and to discuss wider privacy issues. The workshop will take place on Wednesday, 7th January 2015 from 7pm – 9pm at SpunOut.ie's offices in Temple Bar, Dublin 2. Entry is free, but registration is required.
Meanwhile, Tommy has taken the trouble to post a transcript of our podcast interview. Read it here, or listen here.
Technology.ie is powered by Blacknight Hosting and Domains.
Related articles