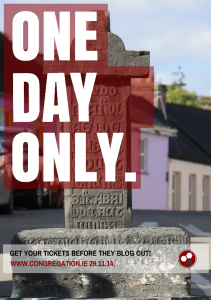 It was one of the most unique and intimate events relating to social media in 2013. Now the organisers of CONGregation, the one-day social media unconference held in Cong, Co Mayo, are looking for "expressions of interest" for 2014.
CONGregation is unusual in that you cannot buy a ticket for the event: you have to blog your way in. There are no passive attendees; everyone is a speaker and everyone has the same status. Participants blog their submissions in advance and then discuss them in small "huddles" of 10 people. Huddle venues include art galleries, cafes, restaurants and bookshops and the groups are rotated after each session. The entire event takes place in the quiet village of Cong, Co. Mayo.
Encouraged by the success of last year's event, organiser Eoin Kennedy has announced that #Cong14 will be held this year on Saturday, November 29.
"We promise a really enjoyable day that not only challenges your thinking, engages you in debate, unleashes your potential but also connects you to people on a whole new level. Just ask the attendees from last year."
To help with the planning, Eoin is inviting expressions of interest. Check out the e-book of collected submissions from last year, or see the videos captured by Technology.ie. Interested? Then get in touch and let Eoin know!
Related articles