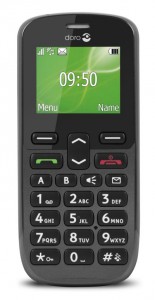 OK – so we all know that we've got more computing power in our pockets than the Starship Enterprise had going to Aldebaran. Or maybe not – it's hard to keep up with Moore's Law these days.
But sometimes people just want a phone. And while technology is embraced by many older people, and can provide significant advantages to those with visual or other impairments, sometimes the best app is the simplest, and the best technology is easy-to-use hardware.
Swedish company Doro released its first 'easy-to-use' mobile phone in 2007 and today it is the global market-leader within the category. Its latest entry-level device is the PhoneEasy® 508.
According to Doro's market research, approximately half of all seniors still want feature phones. Demand for easy voice and text communication is still within the top five buying requirements of a new phone for seniors – "with some not wanting much more".
The Doro PhoneEasy® 508 has well-spaced convex keys, large screen and an easy grip coating. The phone has a crisp and clear visual display with large font sizes, coupled with loud and clear audio. An integrated torch can be accessed at the touch of one button. Like the rest of the Doro PhoneEasy® range, it comes with the ability to hide unwanted features and a personal assistance button on the rear.
Its designers say it's "an attractive option to those customers who simply want their phone for quick and easy voice and text communication".
Available in graphite and pearlescent white. Priced at €40 and available from Littlewoods Ireland.
Related articles