Monkie Selfie
[ 17:28 ]
Play Now
|
Play in Popup
|
Download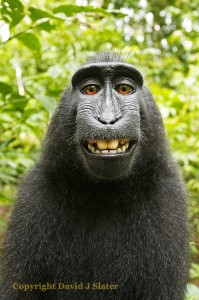 I've written about the 'monkey selfie' photo already this week. Wikipedia users have declared that David Slater's photograph of a celebes crested macaque is in the public domain, because the monkey, not David, pressed the button.
David Slater is my guest on today's podcast (17:28; 10MB; MP3). He talks about his trip to Sulawesi, Indonesia, and the three-day expedition during which he shadowed a troupe of monkeys and earned their trust. He explains the story of how the photographs were created, a story which has been 'embellished', he says, by tabloid newspapers, and misrepresented by people who seek to downplay his role in the creation of the image:
"It seems that none of the [Wikipedia] editors have done the research on the story, they just keep repeating what the Daily Mail said in the UK, and the DailyMail was one of the first newspapers that sensationalised the story, who've never ever interviewed me …
David is dismissive of Wikipedia's claim that it is 'self-correcting', pointing out that the Wikipedia talk pages on the subject are mired in stalemate:
"A lot of Wikipedia editors on the discussion pages are baffled, they're actually quite embarrassed by this action."
Adding insult to injury, last week's Wikimania Festival in London featured prominently displayed copies of the photo, which participants, including Wikipedia founder Jimmy Wales, posed for selfies with.
So this just happened… @jimmy_wales selfie with a #monkeyselfie #wikimania2014 pic.twitter.com/MU6SeyyR7p

— Wikimania London (@WikimaniaLondon) August 7, 2014
David Slater is currently considering his options, and taking legal advice. In the meantime, he's teamed up with photo products company Picanova to give away a printed canvas print of the picture while supporting conservation work in Indonesia.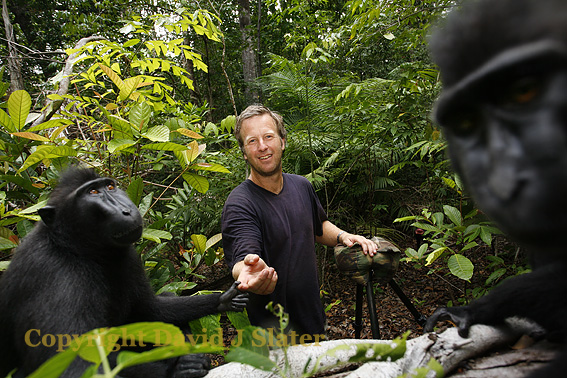 Technology.ie is brought to you by Blacknight, Ireland's leading provider of hosting and domains. All Blacknight hosting is on servers located in the Republic of Ireland, including in our new state-of-the-art data centre in Carlow. Blacknight is 100% Irish owned and managed.
Like the show? We love making it! Subscribe with iTunes or RSS.
Related articles