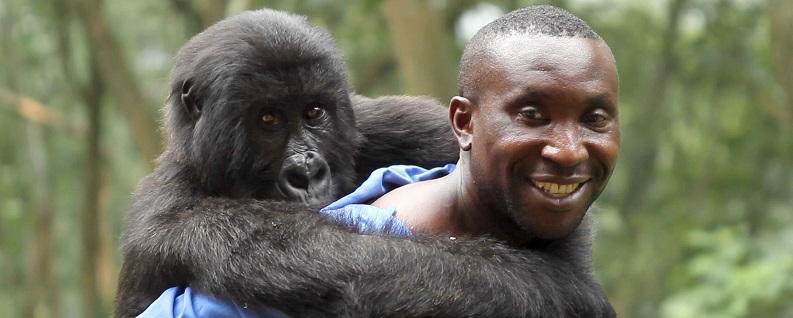 Netflix is teaming up with Leonardo DiCaprio to release the documentary Virunga. The film from director Orlando von Einsiedel centres on the conflict between park rangers striving to protect endangered gorillas from poachers and industry encroaching on their habitats in Virunga National Park in the Democratic Republic of Congo. The documentary will premiere exclusively on Netflix in Ireland and in all territories where Netflix is available on 7 November.
The film follows an embattled team of park rangers at Virunga National Park, home to the last of the planet's 800 mountain gorillas, as they work to fend off encroaching forces of industry, poaching, corruption and war. The award-winning film debuted at the 2014 Tribeca Film Festival, earning a nomination as Best Documentary Feature, and was named Audience Favourite at Hot Docs Film Festival and Best of Fest at AFI Docs, among other awards.
DiCaprio serves as executive producer, with his production company Appian Way also on board. "Films like Virunga are powerful stories that are a window into the incredible cultural and natural diversity of our world, the forces that are threatening to destroy it, and the people who are fighting to protect it," DiCaprio said. "Partnering with Netflix on this film is an exciting opportunity to inform and inspire individuals to engage on this topic.
[youtube]http://youtu.be/Wu-vjWd7Tb8[/youtube]
For his first feature-length documentary, director Orlando von Einsiedel travelled to the forested depths of eastern Congo's Virunga National Park, one of the most bio-diverse places in the world. In this wild but enchanted environment, he encountered a small team of park rangers – including an ex-child soldier turned ranger, a caretaker of orphan gorillas and a dedicated conservationist who's a member of the Belgian royal family – who work to protect this UNESCO world heritage site from armed militia, poachers, and the dark forces struggling to control Congo's rich natural resources. When the M23 rebel group declared war in May 2012, a new conflict threatened the lives and stability of everyone and everything they worked so hard to protect, with the filmmakers and the film's participants caught in the crossfire. Virunga joins previously announced acquisitions Mission Blue, E-Team and Print the Legend on Netflix's upcoming slate of feature documentaries.
"Over two years ago I was drawn to the Virunga National Park to follow the work of an exceptional team of rangers risking their lives to try and better their country after 20 years of war. I found their hope inspiring and infectious. But, when I arrived, I honestly had no idea quite how stacked against them the odds were", said von Einsiedel. "What is happening in the Virunga National Park is an urgent story that every one of us should know about. It's a story that will profoundly affect us all in years to come and speaks about what sort of world we want our children and grandchildren to grow up in. Netflix's global reach is second to none and so it was the obvious platform for us to share with the world the story of the park's brave rangers and their David and Goliath battle".
Related articles