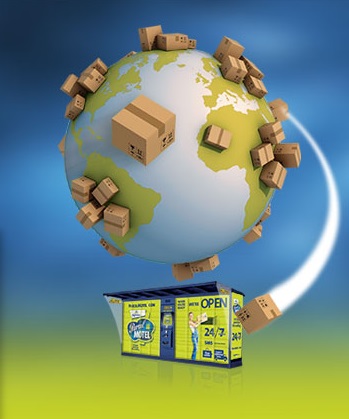 Parcel Motel, the round-the-clock delivery service for online shoppers, have released research detailing the online spending habits of Irish men and women. A survey of over 6,000 online shoppers has revealed that over €2.4billion* is spent a year online by Irish men and women on goods being delivered to their home, workplace or Parcel Motel. More than one third of participants expect their online spend will increase next year.
This research has discovered a range of different eCommerce spending trends in Ireland, with consumers citing convenience and cheaper prices as the main reasons they shop online. Parcel Motel allows consumers to have their goods delivered to a location that is convenient for them to collect at any time through a nationwide network of self-service parcel terminals.
Consumer electronics were found to be the most popular products bought online by Irish people, with over €420 million being spent yearly. The research also showed that this spending is driven by men, who spend five times as much on consumer electronics as women.
According to the research, the top three products men and women will purchase online are:
Men:
Consumer electronics (€338 million)
Clothing (€130 million)
Mobile phones and accessories (€126 million)
Women:
Clothing (€282 million)
Footwear (€86 million)
Clothing accessories/handbags/luggage (€84 million)
Other findings include:
Men and women spend a very similar amount online per year on jewellery – with over €56 million being spent overall
35 – 44 year olds account for the highest spending on toys online, accounting for €35.8 million worth of sales. Surprisingly, however, the research would indicate that grandparents have continued to buy toys for their grandchildren in retail outlets instead of online
Men are spending nearly three times as much as women on adult toys a year, whereas women spend nearly three times as much on lingerie
Gaming is still primarily popular among young adults, as the research indicates that spending on video games declines as people get older. Young adults in Ireland (18-24 year old age group) spend €12 million online on games consoles, but this figure drops to €5.8 million for 25-29 year olds
30-34 year olds and 35-44 year olds spend the most online, with an average yearly spend of €761 (35-44 year olds) and €753.34 (30-34 year olds)
Spend on products such as household items doubles and continue to grow with the age of the spenders. Young adults' spend more than doubles from €5 million to €11.9 million as they move on to the next stage in their lives (25-29 year old age group).
At the launch of the research, John Tuohy, CEO at Nightline which operates Parcel Motel, commented:
"Online shopping is booming in Ireland, with people making more transactions and spending bigger amounts than ever before. Our users have on average over 7 packages delivered a year through Parcel Motel, and we estimate that the annual value of online purchases processed by Parcel Motel now exceeds €114 million.

We have recently delivered our millionth parcel and expect to deliver the next million parcels in an even shorter period. One of the main reasons people are turning to online shopping is the convenience factor, particularly in the run up to Christmas time. Christmas is set to see a spike in deliveries as people order their presents online, and we expect to sign up 40,000 new customers for our Parcel Motel service before Christmas. We've also recently begun operating our first workplace Parcel Motels, in order to help companies being overrun by the deliveries of gifts bought online by staff, and shipped to their offices."
Related articles