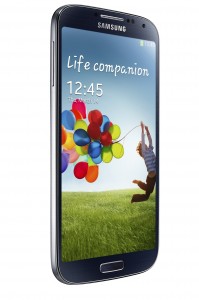 The Samsung Galaxy S4 will be available via Three later this month and they've put out a video showing the unboxing, which shows off some of the phone's features.
Three Ireland are offering a number of plans with the S4 that include plenty of data, so that you don't have to worry about how much you're sharing content etc.,
Bear in mind, however, that any data plan pricing that Three or other operators advertise will be for Ireland only unless otherwise specified. Three, for example, however, are able to offer "free" roaming on some of their international networks, though you may need to check what is available to you on your billing plan.
Three Ireland will be offering the phone for €99 on their €40.66 / month "Classic Flex Max" plan.
They're anticipating high demand for the phone, as noted by Mark Gardiner, Head of Products, Services and Logistics at Three:
We have seen a phenomenal level of interest in Samsung's latest offering. As soon as the new S4 was unveiled in New York earlier this year it was evident the demand was going to be high and this was also reflected in the increased volume of people pre-registering to snap it up on three.ie since.
 
At Three we are committed to meeting our customers wants and needs and providing the best value in the market. We're anticipating a fantastic uptake for the S4 and I'm confident that, as Ireland's largest high speed mobile network combined with our 'All You Can Eat' data offering, Three is the best network for the Samsung Galaxy S4 and all of its amazing features
Here it is:
[youtube]http://youtu.be/ow_pXUfctUo[/youtube]
Tempting?