61% of Irish people aged 15 and over have a Facebook account: more than twice the number on Twitter, its nearest rival at 29%. That's according to the latest Ipsos MRBI Social Networking Quarterly Survey published today.
Twitter membership is slightly ahead of LinkedIn and Google+, which both stand at 24%.  However, Facebook is streets ahead in another important metric, included in the Ipsos MRBI report for the first time today: daily usage.
71% of Irish Facebook users check in on a daily basis. Only 38% of Irish Twitter users do the same, and the daily rates are worse for Google+ (23%) and LinkedIn (13%).
Overall the figures appear to suggest that growth in social media usage may have peaked for the Big Three, with Facebook, Twitter and LinkedIn showing relatively flat membership over the past year: all three services appear to have lost members during the hot Irish summer of 2014.
The striking exception to this trend is a service many associate with being out and about and enjoying the sights: Instagram. Currently at 18%, the photo sharing service has shown steady growth over the past year, and what's more, is second only to its parent company Facebook in terms of daily usage, with a healthy 41% of users checking in every day.
The Ipsos MRBI Quarterly Social Media Survey is based on a telephone poll of a sample 1000 Irish people aged 15 and over. The main headlines from the latest research are summarised in the infographic below. A second infographic to be published today will focus on social messaging.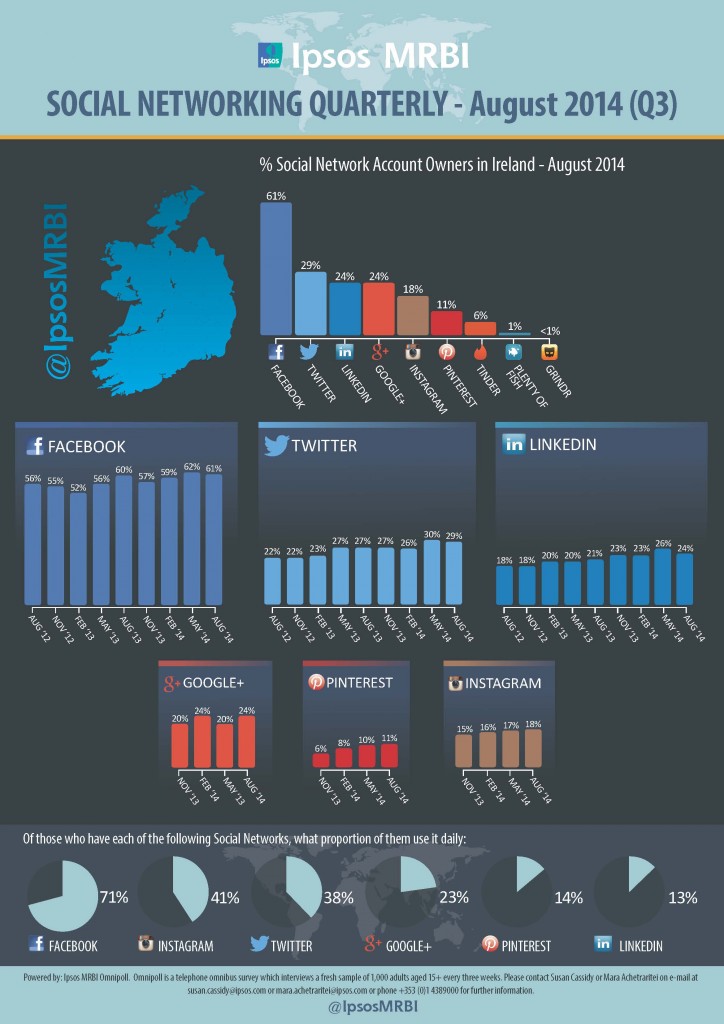 Related articles