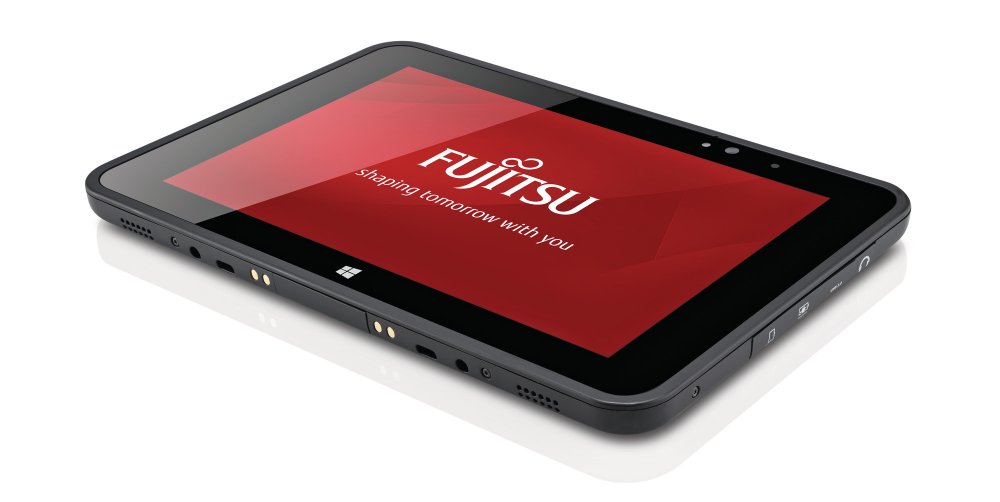 At Mobile World Congress, Fujitsu recently unveiled a no-nonsense, fully ruggedized industrial business tablet, the FUJITSU Tablet STYLISTIC V535. Designed to roll with the punches and soak up the knocks and scrapes of use in environments that would normally overcome consumer-grade tablets, the STYLISTIC V535 stands up to liquids, dust, bumps, and even to being dropped from a height of up to 1.8 meters.
The tablet runs Microsoft Windows 8.1, which will help its integration into many corporate environments, and is using the latest Intel Atom quad-core processor. What's more, the toughened tablet claims enterprise-class levels of connectivity, via optionally built-in broadband and global navigation based on both GPS and GLONASS.
Underlining its suitability for use in environments such as aviation, warehousing and logistics, Fujitsu's STYLISTIC V535 also includes NFC technology, providing a convenient way to track inventory without needing to scan bar codes. Contactless authentication makes it easier for users to log-on to a device while wearing gloves or other protective clothing. The STYLISTIC V535 is also built to operate between a wider temperature range than regular devices, with Fujitsu providing functionality at operating temperature ranges spanning an Arctic -10°C through to a sweltering 50°C.
In designing its toughest-ever STYLISTIC, Fujitsu has not overlooked usability: this is extended beyond the durability of water, dust and drop resistance, as the STYLISTIC V535 has a bright, multi-touch display that can even be used with gloves – and of course uses a toughened glass. Another human centric touch is the user-exchangeable battery.
The Fujitsu Smart Shell Concept also allows customers to implement tablets into specialized industrial environments. This is a range of user-exchangeable shells that allows the STYLISTIC to be more easily integrated into a work set-up, via easy mounting on a 3rd party swivel arm. The Smart Shell with Hexmount option enables fixed mounting for use in environments such as logistics, while the Smart Shell with SmartCard reader adds secure, hardware-based identification and authentication options.
Paul Frost, Channel Manager at Fujitsu Ireland, says:
"We are delighted to welcome the STYLISTIC V535 to the Irish Market. The industrial sectors form an important pillar of the Irish economy and the new tablet is purpose-built to meet the demands of business people working in industrial environments. With its sleek yet robust design, the STYLISTIC V535 is ideal for companies seeking to make future-proof IT investments to help their business scale and evolve."
The FUJITSU Tablet STYLISTIC V535 is available to order immediately in EMEIA and North America. Pricing varies by region, model and configuration.
Related articles