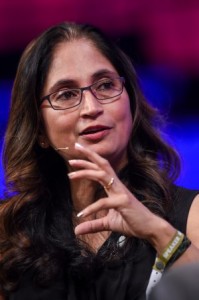 Connectivity between devices and people in their homes, work and cars has emerged as the big theme to dominate the discussions, deals, and bars around Web Summit 2014.
Paul Daugherty, CTO of Accenture, pointed out that there will be 50 billion digital devices by 2020 and believed that 'the internet of things will dwarf the mobile industry', while for Jeff Hagins, Founder & CTO of SmartThings, 'the internet of things' is a term he doesn't actually like preferring to look beyond the boundaries of just devices and 'things'.
'It's about trust', said Nest founder, Tony Fadell, whose company specialies in smart devices for the home which was bought by Google for $3.2bn this year. 'We're being invited into people's homes and we have to constantly prove this home by home and country by country'
[youtube]http://youtu.be/CWUCdVn_2Mo[/youtube]
For the likes of Intel and Cisco, the next step is the internet of everything, connecting people, processing, data and devices focused on the digital transformation of cities and country. It's estimated that globally $19 trillion of value will be created through the internet of everything says Padmasree Warrior, Cisco's Chief Technology & Strategy Officer:
[youtube]http://youtu.be/vxmhCWcaFe4[/youtube]
Self driving cars, robots, technology….it's about improving the lives and productivity of work and home life. Machines and robots can augment people's lives and while privacy and security are factors to take into account, it's ultimately the people who use and own the data and machines and robots have to respect that says Warrior.
Attendees at the Web Summit were told how innovators are creating thousands of solutions to the same problems – the systems require the same components, but are being duplicated countless times. Participants agreed the need for a common set of standards, so solutions fit together.
Once common systems standards are established, the real Internet of Things boom will take off.
Commenting on the conference Phillip Moynagh, Vice-President of IoT at Intel, described how the Web Summit had added hugely to the development of the IoT.
"What is slowing the tipping point of where the IoT could and should be at is the lack of common standards and vision. I saw a desire across the short conversations and the big stage presentations to make that standardisation so solutions can fit together. Bringing 22,000 attendees and hundreds of contributors together over 3 days has hugely advanced the development of this common vision."
Related articles