Colm Lyon
Play Now
|
Play in Popup
|
Download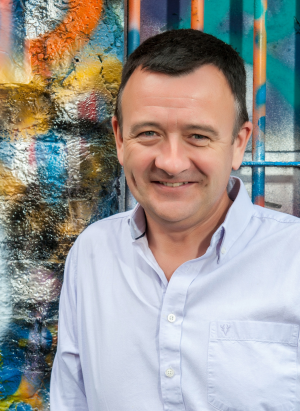 Perseverance, simplicity and excellence in customer service are the keys to success, says Colm Lyon, founder of Realex Payments, which was acquired today in a deal valued at €115 million.
Colm is our guest on today's Technology.ie podcast. Click on the player above to listen to the show, or download it here: 07:10; 4MB; MP3.
The acquisition of Realex by Atlanta-based Global Payments Inc is a perfect strategic fit for both companies, he explains.
"The combination of our online technology and e-commerce solutions, coupled with Global's merchant acquiring – the two of those are extraordinarily complementary solutions", he says, ruling out any question of job losses due to rationalisation.
In fact, he believes, Realex's 170 employees will benefit hugely from the career opportunities created by being part of a larger company with operations in 28 countries.
"The Dublin team here will now become the hub of development and the centre of excellence for the development of those e-commerce solutions that they want to distribute and sell in those 28 countries across the world"
Reflecting on the foundation of Realex, he revealed that a Friends and Family round of investment under the government's Business Expansion Scheme (BES) in 2001 has been the only capital investment in Realex to date. That initial investment of €320 thousand has led to today's valuation of €115 million, and he is especially gratified to see those investors rewarded in today's announcement.
Colm is going to continue as a non-executive director with Global Payments – but he also announced that Pay with Fire (formerly Realex Fire) has been spun off as a standalone company as part of today's deal. Colm is going to run that business which offers users an online current account.
Technology.ie is brought to you by Blacknight, Ireland's largest provider of domains and hosting. We'd like to congratulate Colm and all at Realex!
Like the show? We love making it! Subscribe with iTunes or RSS.
Related articles