Aine Kerr
[ 15:59 ]
Play Now
|
Play in Popup
|
Download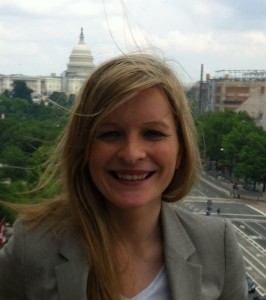 Aine Kerr, Managing Editor of Storyful, is our guest on today's podcast (15:59; 9MB; MP3).
Storyful calls itself "the world's first social media news agency". Founded by ex-RTE anchor Mark Little in 2010, it was acquired by News Corp in 2013 and has offices in Dublin, New York and Hong Kong.
"When everyone is a publisher … how do you separate the news from the noise?" asks Aine, summing up the problem which Storyful solves. These days, the organisations that used to bring us the news first now find that their users already know it – in fact, that ordinary people are the reporters, breaking the news, capturing the footage, 'broadcasting' on their own channels.
Storyful helps media organisations to navigate the sea of user-generated news, using specially developed technology and traditional journalism to track stories, corroborate and verify them and distribute. Aine explains that Storyful also helps the owners of the content, making sure that they get credit, consultation and, if required, compensation, as part of what she calls the Three Cs Charter.
For most of the people who have a viral hit, it's a once in a lifetime experience, she says. Storyful works with platforms like YouTube to ensure that user-generated content is managed, protected and monetised on behalf of its owners. This week they announced 1 billion views of Storyful-managed videos on YouTube.
Other Storyful initiatives include Facebook Newswire, and the Open Newsroom community for journalists on Google Plus.
On the acquisition by News Corp, Aine says that the company continues to operate independently, but that it benefits greatly from being part of large, well-resourced organisation, which will help it to "become the AP of this century", converting user-generated content into a "golden era of storytelling".
Technology.ie is brought to you by Blacknight. The new gTLDs are here: welcome to fresh new pastures!
Like the show? We love making it! Subscribe with iTunes or RSS.
Related articles