Interpol
[ 28:32 ]
Play Now
|
Play in Popup
|
Download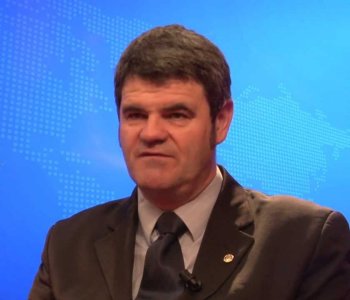 Here's the interview we promised you with Interpol's Mick Moran. We aired a video extract from this just over a week ago; now here's the extended interview, just under 30 minutes, recorded when Interpol's Assistant Director for Human Trafficking and Child Exploitation paid an informal visit to Blacknight HQ while on holidays in Ireland recently.
Click on the player above to listen to the show, or download it here: 28:32; 16MB; MP3.
Mick has seen a side of the Internet which most of us don't want to think about, or even acknowledge. He's unapologetic in his view that technology has not only facilitated child abuse, but it is driving a demand for it. In chat rooms and forums used by paedophiles, he says, Child Sexual Abuse Material (CSAM) – images and films – are a type of currency, and people are encouraged to produce it in order to enhance their status in that 'community'.
If it sounds appalling, it is, but people like Mick don't have the luxury of turning a blind eye to it, and neither, he says, should anyone else, especially not those in the internet industry.
That's because, while technology has facilitated child abusers, it also provides an opportunity to expose them. Child abuse is a societal problem, and everyone has a part to play in exposing it and in bringing relief to its victims.
That includes network administrators and internet service providers, who must apply the same kind of professional approach to dealing with Child Sexual Abuse Material as they do to hackers or malware. Mick acknowledges the work of INHOPE and the international network of Hotlines in working with police to help remove Child Sexual Abuse Material from the Internet, to prosecute abusers and to identify and help victims, and he says he is optimistic that a concerted approach, involving government, industry, advocacy and welfare groups can defeat the problem.
Technology.ie is brought to you by Blacknight. Blacknight is a member of the Internet Service Providers Association of Ireland, which operates the Hotline.ie service in cooperation with the Gardaí, for confidential reporting of Child Sexual Abuse Material and other illegal content. If you witness Child Sexual Abuse Material online, no matter where it is hosted, please report it to your local Hotline. The Irish Hotline works with other international Hotlines through the INHOPE network to ensure that online evidence of child sexual abuse is removed from websites, and investigated with the aim of identifying victims and prosecuting perpetrators.
You can subscribe to this podcast series using iTunes or RSS.
Related articles