Growth Hackers Dublin
[ 17:24 ]
Play Now
|
Play in Popup
|
Download
Justin Mares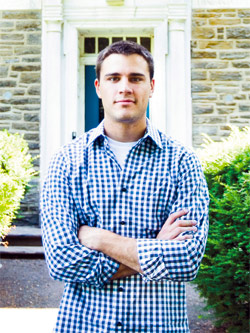 will headline the sixth and final Growth Hackers Dublin event on November 3 at the Abbey Theatre. He's the co-author of Traction: A Startup Guide to Getting Customers, which he co-wrote with Gabriel Weinberg, the founder of search engine DuckDuckGo. Justin is the former Director of Revenue at Exceptional, a software company that Rackspace acquired for 8 figures in 2013. He has previously founded two startups (one acquired, one bust) and runs a growth meetup in San Francisco.
The event, which is sponsored by Blacknight, will be the last in the series, described by co-organiser James Kennedy as:
"the culmination of Jason Roe's and my vision for this … to be able to bring in great people no matter where they were, and also have a vibrant event, and that building (The Abbey Theatre) is kind of special so it will add to it as well. We'll have a full bar right there in the room as well … which means it will be a good opportunity for networking afterwards"
James is our guest on today's episode of the Technology.ie podcast. Click on the player above to hear the podcast, or download it here: 17:24; 10MB; MP3.
Also speaking at GHD 6 will be Alan O'Rourke, B2B Marketing Director at WorkCompass.com, online performance reviews and performance management software. Previously Alan was founder and Director of Marketing at Toddle where he grew the B2B user base from 0 to 30,000 including Disney, Oxfam and Diagio. Alan is the author of two marketing books on lead generation and conversion including the book 30 Days To Sell.
Now that Blacknight has come on board as a sponsor to help bring Justin to Ireland, James says they have decided to do away with the idea of a full day workshop event and stick with the formula which has been successful to date. Growth Hackers Dublin #6 will be an evening-only event beginning at 7pm at the Abbey Theatre and priced as a special early offer of €20 for two tickets (rising to €20 each later this week). It's on November 3rd, the night before Web Summit!
Technology.ie is brought to you by Blacknight, Ireland's leading provider of hosting and domain names, now offering over 200 new domain extensions.
Related articles