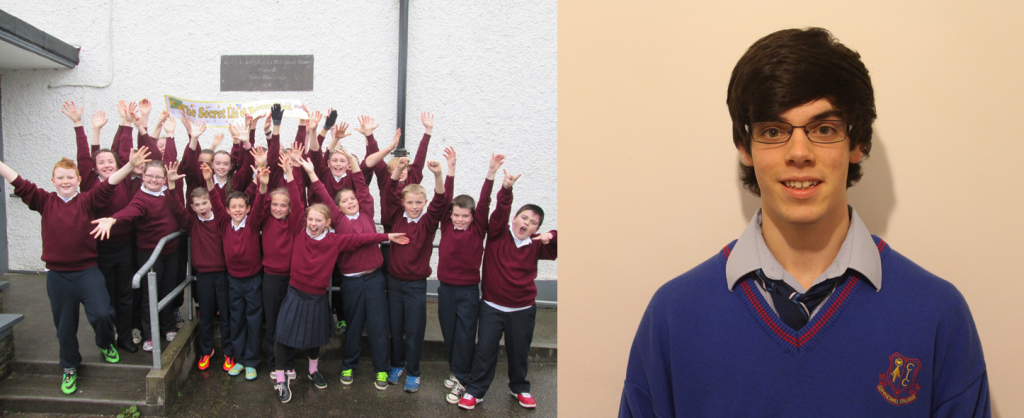 The winners of the €3000 schools science video competition, ReelLIFE SCIENCE, are today announced as part of Science Week 2014. The primary school category winners are Sooey National School, Co. Sligo, with Julien Torrades from Summerhill College, Sligo taking first place at secondary school level.
Primary and secondary schools from all over Ireland were challenged by NUI Galway to make entertaining and educational short videos on a range of science topics. The challenge was taken up by thousands of students in 24 counties around Ireland, producing more than 250 three-minute science videos, in both English and Irish, for the competition.
Selecting the best videos to share in the €3000 prize fund were judges Aoibhinn Ní Shúilleabháin, broadcaster and Lecturer in Mathematics at University College Dublin, Stephen Curry, Professor of Structural Biology at Imperial College London and Science writer with The Guardian, and Paul Clarke, St. Paul's College, Raheny, winner of the SciFest National Final 2013 and Overall Winner of the BT Young Scientist & Technology Exhibition 2014.
The ReelLIFE SCIENCE team, led by NUI Galway's Dr Enda O'Connell, were overwhelmed by the response of the schools. Judge Aoibhinn Ní Shúilleabháin said: "I was astounded by the calibre of the videos from both the primary and secondary schools. It is wonderful to see the thought, preparation, fun, and learning that went into all of the videos and it is very encouraging to see students enjoying and communicating science."
Primary School Winners
[youtube]http://youtu.be/jlkYtllUVGs[/youtube]
The judges selected 'The Secret Life of Honeybees' produced by the 5th and 6th class students of Sooey National School, Co. Sligo, under the direction of their teacher Thomas Egan, as the best primary school video. The prize consisted of €1000 towards science resources for their school.
Professor Curry commented: "Sooey National School's video had good science content, with a very, very funny script and the kids were clearly having a lot of fun which makes the film hugely appealing."
A video called 'ChemKids', examining this year's Science Week theme 'The Power of Science', and made by all students, from junior infants to 6th class, of Scoil Eoin, Tahilla, Co. Kerry, finished in second place, winning €300 in the process.
The third placed primary school video, 'All You Need Are Worms' was submitted by 4th class students of Rush and Lusk Educate Together National School in Dublin, winning €200. Also shortlisted were 'The Digestive System' by St. Patrick's National School, Newbridge, Co. Kildare and 'Bíodh an Fórsa Leat' by Scoil Náisiúnta Iognáid, Gaillimh.
Secondary School Winners
[youtube]http://youtu.be/IxY8IgYGFio[/youtube]
At secondary school level, the judges chose 'The History of Medicine' by Leaving Certificate student Julien Torrades from Summerhill College, Sligo, under the supervision of his Art teacher Jonathan Cassidy, as their winner. The video, described by Professor Curry as "a good use of stop-motion…with a nice sense of humour…covering an impressive amount of ground in a short space of time" earns €1000 for Summerhill College's science programme.
In second place, a video about Austrian physicist 'Lise Meitner – the Science Hero that time forgot' impressed the judges, winning €300 for Rosses Community School, Dungloe, Co. Donegal, while 'Gravity in a Nutshell' earned Causeway Comprehensive School, Co. Kerry, €200 and third place. Also shortlisted were 'Vision – How We See the World' by 5th year students from St. Andrew's College, Blackrock, Co. Dublin, and 'Alexander Fleming – Science Hero' by Transition Year students from St. Marys School for Deaf Girls, Cabra, Dublin 7.
An additional €250 publicly voted prize, was won by the video 'Trees: Properties and Uses' produced by the students of St Michael's House Special National School, Ballymun, Dublin 9, with the help of their teacher Melanie McInerney.
All the videos can be viewed at www.reellifescience.com and will be shown to the general public as part of the Galway Science and Technology Festival Exhibition, held in NUI Galway on Sunday, 23 November.
Related articles