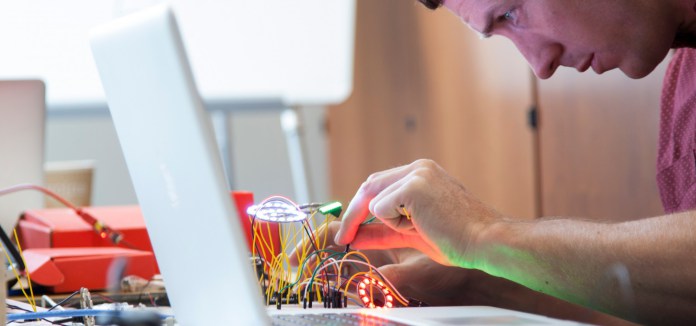 PCH, the company that designs custom manufacturing solutions for startups and Fortune 500 companies, has confirmed that experts from some of the world's leading companies will join Ireland's first Design and Hardware Hackathon, which it is co-hosting with DCU on November 1-3 at the DCU Innovation Campus in Glasnevin.
The event is being run in partnership with the National College of Art and Design and Web Summit. It aims to encourage collaboration among industrial designers and the next generation of connected device and 'internet of things' innovators. Over 36 hours, it will bring together designers, makers, connected hardware enthusiasts and innovators to pitch their hardware ideas, and then form teams to conceive, design and make prototypes of the next generation of connected devices, supported throughout by cutting-edge design expertise and with access to some of the best hardware equipment available globally.
Open public tech workshops take place from 1:30pm on Saturday 1st November and will feature a screening of Maker: The Movie.
At 6:30pm on Monday November 3rd, a panel discussion will take place, and will include contributions from:
Paul Cocksedge, Co-founder, Paul Cocksedge Studio. Founded in 2004 by Paul and Joana Pinho, the Studio has won national and international acclaim for its original and innovative design.
Yonatan Raz-Fridman, Co-Founder of Kano, a DIY computer kit designed to help people of all ages assemble a computer from scratch, and learn basic coding skills.
Liam Casey, Founder and CEO, PCH, the company that designs custom manufacturing solutions for startups and Fortune 500 companies.
Aisling Hassell — Head of Consumer Experience Airbnb, a trusted community marketplace for people to list, discover and book unique accommodations around the world.
The panel discussion will be moderated by Ann O'Dea, CEO and Editor-at-Large at Silicon Republic, Ireland's number one resource for technology news.
Topics for discussion include:
How design is crucial to the success of new products;
How design can and should be incorporated into product development from the start;
How designers and engineers can learn from each other;
How to encourage start-ups in Ireland; learning from the global experience.
Mark Hatch, CEO and Co-founder at TechShop, will introduce the final pitching sessions where participating teams will present their completed prototypes to a panel of judges including representatives from DCU, PCH and NCAD. TechShop is a membership-based, do-it-yourself (DIY) workshop and fabrication studio providing access to a vibrant community of creative people and more than $1 million worth of high quality machines, tools and software.
Winners will be announced following the panel discussion. The team which designs and prototypes the winning device will receive a €1,500 prize from PCH to further develop their product, consulting from Each&Other to perfect their design and tickets to the Web Summit. The runners-up will receive €1,500 and the third placed team will receive €500.
Tickets for the event cost €40. It is a non-profit event with ticket costs going directly towards support for the weekend activities for the participants.
Related articles