It's nice to get out for a walk now that the evenings are brighter, but it can be spoiled when you have to keep your eye on the ground to avoid stepping in something nasty.  Now, Limerick City and County Council is one of a number of local authorities undertaking a novel approach to combating dog fouling, by erecting audio devices that encourage dog owners to clean up after their pets.
Two mobile programmable audio systems developed by NUI Maynooth based company Riteview Solutions, have been installed on either side of the River Shannon in Limerick City.
Dog owners who pass the audio devices along the city boardwalk will trigger a message stating: "'Do your bit to keep Limerick clean. Stop Limerick Dog Litter. Use Any bag any bin – please pick up after your dog."
The Council says it will relocate the devices currently operating in the city area to other areas throughout Limerick during the coming months, and that it is considering the option of installing additional devices elsewhere.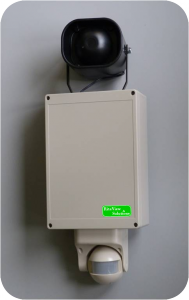 Mayor of Limerick Cllr Kathleen Leddin says:
"Dogs are such wonderful companions but unfortunately they cannot clean up after themselves. It really is important for dog owners to continue to become more responsible and to pick up their dogs litter considering dog waste is not only a nuisance but can also carry diseases which can be harmful to humans. I would urge dog owners to dispose of such litter in the nearest litter bin or dog fouling bin."
Aidan McDermott of Riteview Solutions explained how his company got started:
"Based at NUI Maynooth, our company evolved from an EPA project examining how technology can complement environmental enforcement and awareness initiatives around the country. The audio devices we have developed are particularly suitable for raising awareness in relation to dog litter and we are delighted to have been engaged by Limerick City and County Council on this initiative."
Sinead McDonnell, Environment Awareness Officer, Limerick City and County Council explained there are a number of simple ways in which dog owners can help keep public areas dog litter free.
She explained:
"Pooper scoop bags are available in supermarkets, pet shops and in some of the euro/deal shops. Dog litter bags can be bought as cheaply as €1.00 for 100. People may also use nappy sacks, reused plastic bags or something similar. Limerick City & County Council provides bags to dog walkers in Public Parks, have installed a number of dispensers in Parks around Limerick, and also reminds dog owners at renewal licence times to clean up after their dog."
Related articles