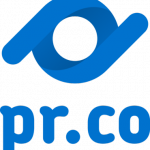 We've been using PressDoc to handle the company's press releases for the last few months. It's a simple yet powerful service.
In the last few days they've rebranded as PR.co.
Not only is the name shorter and better, but it also shows a change of focus.
They've moving away from "just" press releases to a PR service, which is kind of what they were doing anyway, even if they hadn't really acknowledged it.
They're describing themselves as the "Salesforce of PR".
Best of luck to them – we'll continue using the service 🙂